Speaker: Lisa Zaoutis, MD, Pediatric Residency Program Director at the Children's Hospital of Philadelphia.
Amid the skyscrapers of the Windy City, Pediatric Hospital Medicine (PHM) 2016 swept into town, bringing with it the denizens of pediatric hospitalist programs across the country. Some 1,150 attendees, comprised of hospitalists, PHM program leaders, and advanced care practitioners, gathered to educate and inspire one another in the the care of hospitalized children.
Dr. Lisa Zaoutis, director of the pediatric residency program at Children's Hospital of Philadelphia, kicked off the conference with the opening plenary. Initially titled "North Star and Space," she quickly changed the title to, "Changing Our Minds." Touching on the disconnect between positive experiences that bring physicians into PHM and negative experiences that often drive behavior, she started with the beginning, the evolution of our brains.
"We are wired toward the negative," stated Dr. Zaoutis. "We are Teflon for positive experiences and Velcro for negative experiences." In addition, negative experiences are more likely to be stored in our memories. "It's easy to park negative experiences."
Delving deeper into neuroanatomy, Dr. Zaoutis spoke of "amygdala hijack," where chronic stress inherent to the professional lives of pediatric hospitalists lead to anxiety responses that are faster, more robust, and triggered more easily.
But all is not lost, asserted Dr. Zaoutis, as our brains are more plastic than previously known. The "neural Darwinism," of our brains, as Dr. Zaoutis states, leads to epigenetic intracellular changes, more sensitive synapses, improved blood flow, and even new cells as a result of experience dependent neuroplasticity. For example, stated Dr. Zaoutis, London taxi drivers have thicker white matter in their hippocampus as a result of the effect of learning London city streets, and mindfulness meditators have thicker gray matter in regions that control attention and self-insight.
Key Takeaways:
The lesson for pediatric hospitalists, stated Dr. Zaoutis, is that you can shape your brain for greater joy. "Consciously choose activities," said Dr. Zaoutis, that counter our evolutionary negativity bias. How is this done?
1. Have a positive experience (you can create one or retrieve a prior one);
2. Enrich it and install it by dwelling on it for at least 15-30 seconds; and
3. Absorb it into your body, which my require somatisizing it – Dr. Zaoutis presses her hand into her chest to aid in this.
Further, spread this to your group by the old medical training technique of "see one, do one, teach one." See if you can start your signout with the best thing that happened to you in the week. Most importantly, start with observing yourself.
---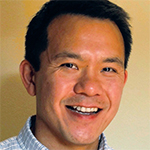 Dr. Chang is pediatric editor of The Hospitalist. He is associate clinical professor of medicine and pediatrics at the University of California at San Diego (UCSD) School of Medicine, and a hospitalist at both UCSD Medical Center and Rady Children's Hospital. Send comments and questions to [email protected].