From 2003 to 2007, Joshua LaBrin, MD, FACP, SFHM, completed his residency in the University of Pittsburgh's internal medicine/pediatrics program. In his chief resident year, he began to look at fellowships.
So he started thinking about who he considered role models in medicine.
"And they were the hospitalists," Dr. LaBrin says. "They were the ones on the wards. I was able to see their compassion for their patients, their ability to teach and mentor residents such as myself.
"Those are the people I looked up to, and that's who I wanted to be."
And with that, his career in HM began. A fellowship in the specialty followed at the Mayo Clinic in Rochester, Minn. Then a teaching position there. Then one at Vanderbilt University School of Medicine in Nashville. And last year, he became an academic hospitalist and assistant professor at the University of Utah School of Medicine.
Now, he's one of seven new members of Team Hospitalist, The Hospitalist's volunteer editorial advisory board.
Question: What got you involved in medicine in the first place?
Answer: I remember my pediatrician … putting me at ease during the visits, and then when I was in high school and had appendicitis and had to go through surgery. ... Each of the physicians caring for me left a different impact and served as an inspiration for me to follow in their footsteps.
Q: What was it about those who treated you that struck a nerve?
A: The fact that they cared for me and were able to either keep me well or get me better. The surgeons helped me through a pretty scary part in my life. [They] treated me as a person, rather than just another patient, even meeting me where I was at at that point. That was the kind of thing that resonated with me, and I wanted to do that for people as well.
Q: Did you have a mentor?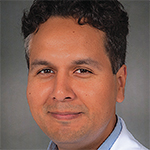 Balancing patient care with teaching is one of the big struggles that educators find nowadays, and I think you have to get creative.
—Dr. LaBrin
A: I had more than one mentor in residency and fellowship where I was able to really learn many lessons from them. And I think among the things that I learned, beyond hospital medicine, was the value of work-life balance. I've definitely been able to talk with them, even beyond fellowship, as I have moved and changed positions. That's something I've been able to reflect on regularly. Especially as my family has grown, I continue to communicate with them, so I have always been grateful for their mentorship.
Q: Have you looked to mentor others?
A: That's one of the things I've definitely enjoyed. I have been given opportunities to provide mentorship for new faculty or for residents, and it's been a humbling experience and it's been an honor to be able to do that.
Q: In terms of personal satisfaction, what do you enjoy most about your job?
A: I really enjoy working with the trainees, walking with them in their development, seeing them on the wards caring for inpatients and thinking more about issues germane to their patients. Seeing them grow as doctors, as physicians. That's something I don't think I'll ever get tired of doing.
Q: No job is perfect. What do you like least about your job?
A: The most frustrating issue for me is when you are caring for patients and you're really unable to provide an ideal discharge plan for them due to a financial or technical issue. For example, the three-midnight rule with Medicare sometimes limits you in what you are able to provide for your patients ... so I think that's probably one of the frustrating things.
Q: What are the biggest changes you'd like to see in the field?
A: One of the big things I have seen over this past year is the whole MOC (Maintenance of Certification) path debate. As nebulous as it has been for internal medicine, in general, I think it is even more so for hospitalists. So having a kind of clear, more practical path for hospitalists would be one of the biggest changes I would like to see. I think the current discussion is healthy. I think it provides a good forum for, hopefully, some positive changes, and I hope that also translates into positive changes for hospitalists as well.
Q: Academic HM can be a real time crunch, between clinical care and classes. How do you balance?
A: Balancing patient care with teaching is one of the big struggles that educators find nowadays, and I think you have to get creative. Obviously, the goal for me as an educator when I am on the wards is to help the trainees take better care of their patients.
So the more I can find ways to be able to provide great patient care, but do it in a way that also either allows the residents or students to learn to do that themselves or to be able to model that for them, then debrief with them afterwards, the more I can achieve that goal.
I have started to learn there are many different ways to be able to do that. And so being able to go into the day as prepared as you can be, and try to have a good plan in place with also plan B and plan C, if necessary, depending on how the day goes, I think is what has helped me.