Since last September, Anand Kartha, MD, MS, has headed the hospital medicine (HM) program at 600-bed Hamad General Hospital, the flagship facility for eight-hospital Hamad Medical Corporation in Doha, Qatar, a small nation of 1.8 million people located on the northeast corner of the Arabian Peninsula.
"Qatar has a world-class healthcare system," he says. "But to me, it sometimes feels like 1999, with the beginnings of the hospitalist movement as a new model of care."
Dr. Kartha, a native of India who trained at the University of Pittsburgh Medical Center Mercy and Boston University School of Medicine, was recruited by Hamad Medical Corporation to develop hospital medicine in response to the growing complexity of inpatient care—and of patients served.
"Hospital medicine, delivered 24/7 by attending physicians, is an important element of the Health Ministry's strategy and vision," he says. "They looked at Australian, British, and American health systems, trying to put together the best from each—adapted to local sensitivities.
"One reason I came here was to expand the hospitalist model and be part of its extraordinary growth and development."
Dr. Kartha also participates in medical research and residency training. His group now employs 30 attending physicians, half of them recent hires from the U.S. and the U.K.
As in the U.S., international drivers for the hospitalist model of care include pressures to improve efficiency, throughput, and quality of care. Those drivers are especially in focus at Hamad General, which Dr. Kartha says has one of the busiest EDs in the world.
Hospital medicine programs are springing up in other parts of the world, too, often inspired by the success of the HM model in the U.S. Hospitalist pioneers from other countries pore over the published research and visit the U.S. to attend conferences like SHM's annual meeting, with its programming for international members, or to complete fellowships or other trainings. U.S. hospitalists are invited to speak to groups in other countries. Some, like Dr. Kartha, are being tapped to build hospitalist programs around the globe.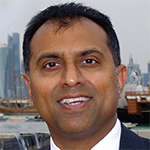 "Models we are introducing include extended hours coverage, evenings and weekends, proactive discharge planning, and co-management with specialists. The health system is also rolling out an electronic health record."
—Anand Kartha, MD, MS
Hospital medicine can be introduced from the top down as a strategy by the public health system or from the bottom up by pioneers and advocates at the grassroots level.
Ron Greeno, MD, MHM, FCCP, has been active in hospital medicine since before the term "hospitalist" was coined. Currently chief strategy officer with IPC Healthcare, Inc., he was a founder in 1993 of Cogent Healthcare, which recently merged with Sound Physicians in Tacoma, Wash. Dr. Greeno says he is fascinated by the growth in international hospital medicine.
"I have been impressed at the number of countries that are represented at SHM [meetings] and the enthusiasm they show as they talk about their experiences," he says. "What I see in these young, enthusiastic physicians from around the world is they are not naïve, but they are very idealistic. Their descriptions of their struggles remind me of our early days in Southern California.
"The international representatives at SHM all recognize the need for data. Every one of them feels their hospitalist model has advantages for their health system. But everybody's struggling with the need for more resources. That's the same in the U.S."
Similarities and Differences
Many aspects of the experience in Qatar have been surprisingly familiar for Dr. Kartha.
"We are a Joint Commission-accredited hospital," he says. "Our residency program is accredited by the American College of Graduate Medical Education. We are the flagship hospital for Weill Cornell Medical College in Qatar."
The workday of a hospitalist at Hamad General is strikingly similar to the one he knew as an academic hospitalist in Boston.
"Models we are introducing include extended hours coverage, evenings and weekends, proactive discharge planning, and co-management with specialists," he says. The health system is also rolling out an electronic health record.
Still, his adaptation to a new medical system has generated many curiosities in the sports-mad, fully wired-for-Internet nation, which has the world's highest per capita standard of living.
"Every now and then, I look around and think: 'This isn't Kansas anymore, Toto,'" Dr. Kartha says, adding that he has learned about important cultural and religious beliefs and traditions that affect patients' attitudes toward health and healing.
Arpana Vidyarthi, MD, associate professor in the Duke-NUS Graduate Medical School in Singapore, previously worked as a hospitalist at the University of California-San Francisco (UCSF) before moving to Singapore in 2011. She thinks "pockets" of hospital medicine are being practiced all over the world "in response to local needs."
"The model is manifest in a diverse fashion throughout the United States, yet it is agile enough to be adapted around the world and be truly relevant," Dr. Vidyarthi says. "But local tradition and the way hospitals are structured will determine how the model is established."
Traditionally, medical specialists, often without a central physician to coordinate care, manage inpatients in Singapore, according to Dr. Vidyarthi. At discharge, they are referred to numerous subspecialists and to a public health clinic. Half of hospital wards are staffed by "super-specialists," the other half by general internists who see patients both in the clinic and in the hospital, she says.
"This is not hospital medicine as we know it in the United States," she says, "but different models are evolving."
Listen to Dr. Henry Feldman discuss his work helping physicians overseas advance their medical informatics programs, patient care, and dissemination of "Open Notes".
Ten years ago, physicians from Singapore visited UCSF to observe how hospital medicine was practiced there. A family medicine hospitalist program was piloted in 2006 at Singapore General Hospital. The program helped reduce lengths of stay and costs of care without adversely affecting mortality or readmissions.1
Kheng-Hock Lee, MD, one of the researchers and president of the Singapore College of Family Physicians, says that defining a generalist role for hospital medicine in Singapore has been difficult.
"When I call myself a hospitalist here, there is a strong reaction from some who perceive it as profit driven," Dr. Vidyarthi says. "Clearly, there is a need for a generalist physician at the center of the patient experience, to manage the complexity of the patient as a whole person, as well as the hospital system. That is where it's emerging within internal medicine, whether it's called hospital medicine or not."
For the past year, Dr. Vidyarthi has been working at Singapore General.
"The concept of the academic hospitalist is new here. People are able to see when I'm on service that I do things differently. This is because of the hospitalist mindset I brought from the United States," she says. "Because I have a systems lens, I organize my day differently than the other doctors. I teach concurrently with clinical care, delegate responsibilities and accountabilities, and focus on discharge from the first day of admission.
"In general, my team is happier and my patients have lower lengths of stay."
Defining a Specialized Expertise
Whatever you call it, there is a need around the world for physicians to practice in hospitals—to help standardize care, improve quality and patient safety, and prevent waste. Peter Jamieson, MD, a family physician in Calgary, Alberta, Canada, and medical director of the Foothills Medical Centre, has worked as a hospitalist since 1997. He didn't call himself a hospitalist at first, "but the concept is becoming better socialized and more widely recognized in Canada."
The Canadian Society of Hospital Medicine, founded in 2001 and affiliated with SHM, has about 1,300 members.
"I'd say we're more the same than different compared with the United States, with a similar focus on quality of care," Dr. Jamieson says.
Interestingly, he says the moniker "hospitalist" is not helping the development—and recognition—of Canadians who practice hospital-based medicine. It's a refrain echoed for years by many in the U.S.
"As leaders in hospital medicine in Canada, we'd prefer to move away from the term 'hospitalist' and toward 'specialist' or 'expert in hospital medicine,'" he says. "That takes us more in the direction we want to go in defining the mission of hospital medicine.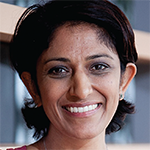 "The model is manifest in a diverse fashion throughout the United States, yet it is agile enough to be adapted around the world and be truly relevant. But local tradition and the way hospitals are structured will determine how the model is established."
—Arpana Vidyarthi, MD
"First of all, in Canada and other places, there's a bit of baggage attached to the term 'hospitalist.' These other terms help us get away from some of the historical assumptions of what people thought a hospitalist was—based on educational background."
In Canada, that has largely been family medicine. Hospital medicine advocates are now exploring the best preparation for practicing the specialty.
"We want to define the mission around competency, rather than board certification," Dr. Jamieson explains.
Listen to Dr. Jamieson discuss the evolution of hospital medicine in Canada.
The days when the majority of Canadian primary care providers would join the staff of a hospital and continue to manage their patients' care during the hospital stay are long gone, he adds. In smaller and rural hospitals, the family doctor may still be the physician of record, although the number of such hospitals is dwindling.
HM clinicians generally are not employed by the hospital but often are sole practitioners with independent corporations or organized into groups that associate for the sake of the practice, signing a common contract with the hospital. Depending on provincial law, most hospitalist groups have leaders appointed and compensated by the hospital for scheduling and coordination.
On top of billing fee-for-service to the provincial health authority, hospitalists may also receive a stipend from the hospital, collectively or individually.
"There is a recognition that the physician fee schedule has not kept pace with the demands of hospital medicine, and that stipend also covers other services performed in the hospital," Dr. Jamieson says.
Vandad Yousefi, MD, CCFP, FHM, hospitalist at Vancouver General Hospital in British Columbia, Canada, and co-founder and CEO of Hospitalist Consulting Solutions, has researched the development of hospital medicine in Canada and says that, even more than in the U.S., it was driven by the withdrawal of PCPs from hospitals, which created a vacuum.2,3
"For a lot of programs I've consulted with, the crisis point happened when physicians resigned en masse from hospital staffs," he says.
Another driver is an increase in "unattached" hospitalized patients, which in Canada means they don't have a specific medical provider willing to supply their inpatient attending-level care. In his surveys of typologies of roles played by hospitalists, Dr. Yousefi has observed a lot of variation in program models—not just between academic centers, teaching hospitals, and rural hospitals, but also within each category.
"These differences in programs make it hard to benchmark," he says.
Hospitalist—or House Officer?
The Netherlands also has "hospitalists," although they also refer to themselves as "house officers," says Marijke Timmermans, a doctoral student in epidemiology at the Scientific Institute for Quality of Healthcare at Radboud University Medical Center in Nijmegen. As part of a long-standing system of post-graduate, on-the-job training for doctors, Dutch hospitalists typically are medical residents who perform the medical care of hospitalized patients, but not as the physician of record.
Timmermans is studying the growing role of physician assistants (PAs) in managing hospitalized patients in response to demands for better continuity of care. Although the PA concept is little more than a decade old in the Netherlands, there are 1,000 PAs, with about half filling a hospitalist role under the supervision of a medical specialist. Timmermans' research looks at the effectiveness and quality of care with PAs under a mixed model of PA and physician, compared with physician alone.4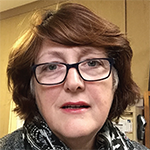 "The concept of a rural generalist is already well accepted in Australia, and hospital medicine is the next logical iteration of the medical generalist."
—Mary G.T. Webber, MBBS
In the Netherlands, the patient's PCP does not assume medical management responsibility while the patient is hospitalized, although PCP visits might be made to reassure the patient and advise the hospital-based team. As in the U.S., the hospitalist will try to communicate with the primary care doctor at discharge and, if possible, schedule follow-up visits for the discharged patient at a clinic on the hospital campus.
A new experiment is underway in four Dutch hospitals. It's a three-year medical education curriculum to train "hospital doctors" (ziekenhuisarts). The new medical specialty, with general medical training, will assume more responsibility for ward care in the hospital. Timmermans says it is not yet known how these professionals will relate to other professionals in the hospital.
Joseph Li, MD, SFHM, head of hospital medicine at Beth Israel Deaconess Medical Center in Boston and past president of SHM, notes a key distinction between hospitalists as they are commonly understood in the U.S. and house officers: House officers don't assume medical responsibility for the patient's care.
"A house officer is not a hospitalist as we understand it—but even in this country, terminology varies and means different things in different hospitals," Dr. Li says.
The Acute Medical Unit
In the U.K., a different model has emerged over the past two decades. It is called the acute medical unit [PDF] (AMU) and is staffed by dedicated consultants.5 The AMU fits functionally between the hospital's ED, or front door admissions, and specialty care units within the hospital.
Patients generally are admitted to the AMU for a maximum of 72 hours for medical work-ups, with consultations as needed by specialists. They should be seen twice a day by the acute medical consultant, who is responsible for the delivery and direction of their care. Then they either go home or get transferred to a specialty unit within the hospital, with specialty care organized in a manner broadly similar to the U.S.
This frontloading of medical attention at admission allows patients to be worked up and turned around quickly, says Derek Bell, MD, head of acute medicine at Imperial College London and a founder in 2000 of the U.K.'s Society for Acute Medicine. Dr. Bell suggests that this system developed to ensure a safe haven for medical patients who are unstable or require ongoing investigation and treatment. A national "four-hour rule," designed to reduce overcrowding in EDs, means that patients need to either go home or be admitted within four hours of presentation to the hospital.
U.K. hospitals also employ a registrar, a senior trainee who supervises junior and resident doctors. Hospital physicians are salaried and employed by "provider organizations," which can be a single hospital or a collection of hospitals.
"My hospital admits about 30 to 35 medical patients per day, and we have two consultants working during the day just doing acute medicine, along with two registrars, one for emergency patients, two intermediate grade doctors, and two junior residents," Dr. Bell says.
Acute medicine consultants generally do weekday shifts, with one consultant on call per night.
A few hospitals have embedded PCPs, who know the local system and can facilitate communication with the patient's family doctor. "This model is well recognized but is not common," Dr. Bell says.
What's Happening Elsewhere?
In Australia, public hospitals in New South Wales generated positive results for a hospitalist pilot program in 2007, but also encountered some resistance from the Australian Medical Association and others concerned about its potential impact on such existing roles as career medical officer, PCP, and general physician, and on the provision of medical training in hospitals.6
Hospital medicine has grown since then, but slowly, with individual institutions successfully employing hospitalists at various levels. The fledgling specialty has yet to take off nationally, says Mary G.T. Webber, MBBS, a past president of the Australasian Society of Career Medical Officers. Dr. Webber practices hospital medicine at Ryde Hospital in suburban Sydney, where she has found the mix of clinical care, system development, and mentoring roles offered by the service personally rewarding. She has been frustrated with a lack of progress for the hospitalist movement overall in Australia.
"The concept of a rural generalist is already well accepted in Australia, and hospital medicine is the next logical iteration of the medical generalist," Dr. Webber says. This need has been supported by the NSW Ministry of Health through a Hospital Skills Program, and, more recently, the successful implementation of a master's degree for experienced nonspecialist doctors through the Senior Hospitalist Initiative at the University of Newcastle.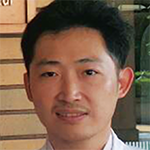 "We are trying to persuade the Ministry of Health to pay a fair reimbursement for inpatient care."
—Nin-Chieh Hsu, MD
"Once you adopt a system view of patient care in hospitals, there is no going back," says Dr. Webber, who was lead author of the hospital skills program curriculum in hospital medicine. "This is an idea whose time has come."
A pioneering hospitalist program at National Taiwan University Hospital in Taipei (NTUH) was established by internists with diverse specializations in pulmonology, nephrology, infectious diseases, and family medicine and is led by Hung-Bin Tsai, MD, and Nin-Chieh Hsu, MD.7,8 Because of relatively low salaries for generalist physicians and a national health insurance program that incentivizes patient access to specialists, 95% of internal medicine doctors in Taiwan have chosen to subspecialize, Dr. Hsu says.
Other barriers to the dissemination of hospital medicine in Taiwan include a shortage of internal medicine residents and resident work-hour restrictions mandated by the country's Ministry of Health, with resulting heavy work schedules for internal medicine attending physicians, who average 64 hours per week. Advocates believe the hospitalist model could help promote better work-life-salary balance for inpatient physicians.
"We are trying to persuade the Ministry of Health to pay a fair reimbursement for inpatient care," Dr. Hsu says.
The pioneer hospitalist program at NTUH, developed in 2009 in a 36-bed, hospitalist-run ward, now 70 beds, has this year been joined by more than 20 other hospital medicine programs under an initiative of the Ministry of Health. Auspiciously, the chief of the pioneer hospitalist program at NTUH, Wen-je Ko, MD, PhD, was elected mayor of Taipei earlier this year. A Taiwanese Society of Hospital Medicine should be up and running by late 2015, says Dr. Tsai, who is its chief facilitator. When that happens, organizers expect hospital medicine to finally take off in Taiwan.
The Future Is Now
When Dr. Greeno talks to international hospitalists, he says, "If you're doing a good job, that creates value for somebody. Find out who that is—that's where you need to go to get your resources, financial or otherwise. Is it your individual hospital or your national health system? Everybody wants to deliver better care at lower cost. When you do that, that's your driver for growth."
Something about the hospitalist model, he adds, "just makes sense."
"There are people virtually everywhere who are very enthusiastic about it. We in the United States can learn a lot from their enthusiasm," he says. "It will evolve in different ways. The future is already here; it's just unevenly distributed."
---
Larry Beresford is a freelance writer in Alameda, Calif.
---
References